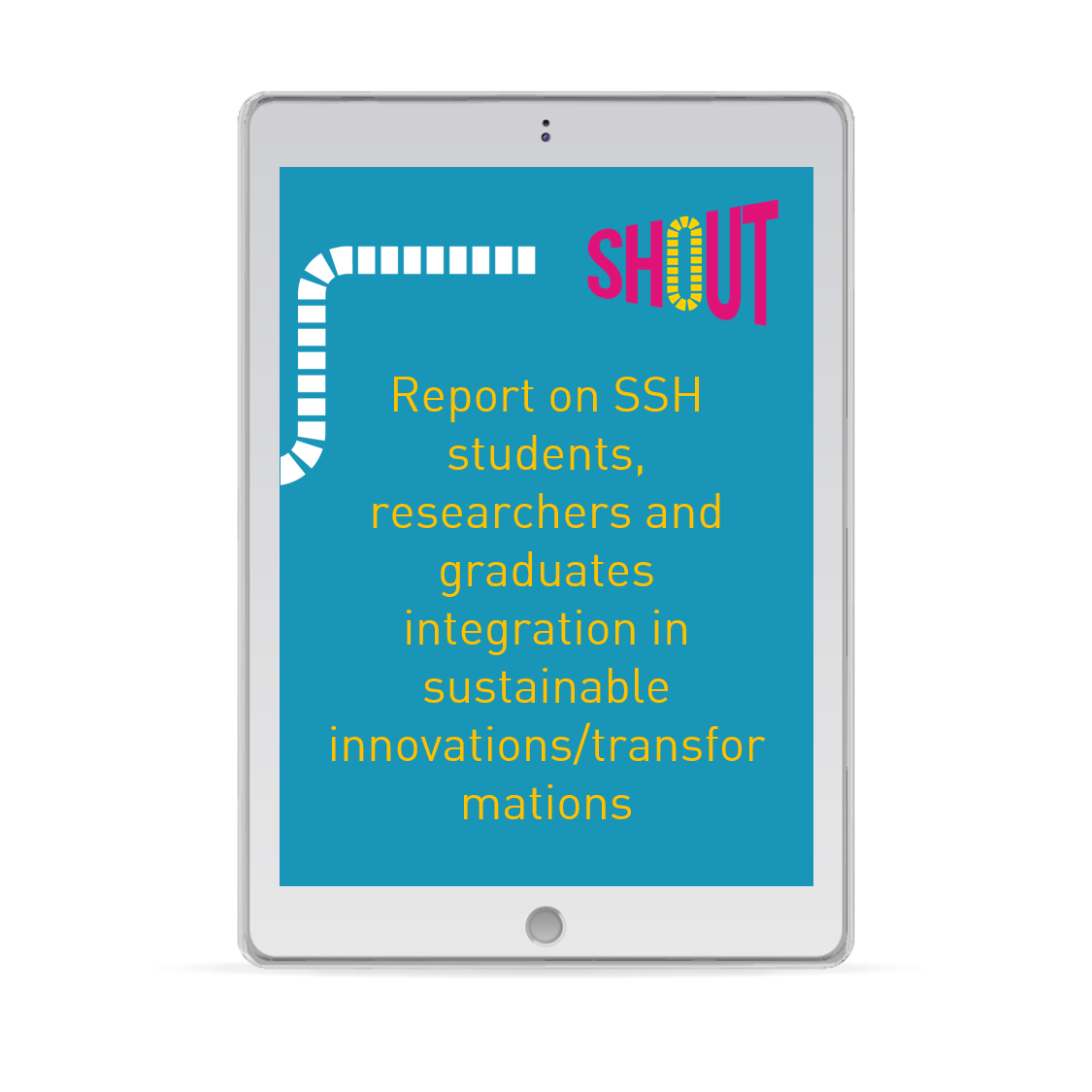 Report on SSH students, researchers and graduates integration in sustainable innovations/transformations
This report will summarise the main findings and conclusions of the literature review (desk research) and field work (based on the contributions of stakeholders through surveys and interviews), presented by each of the settings under analysis (Academia, industry and 3rd sector) and including an overall perspective. Furthermore, it will also include a set of recommendations for the guidelines and for the further work that will be developed in the subsequent WPs of the project.
DOWNLOAD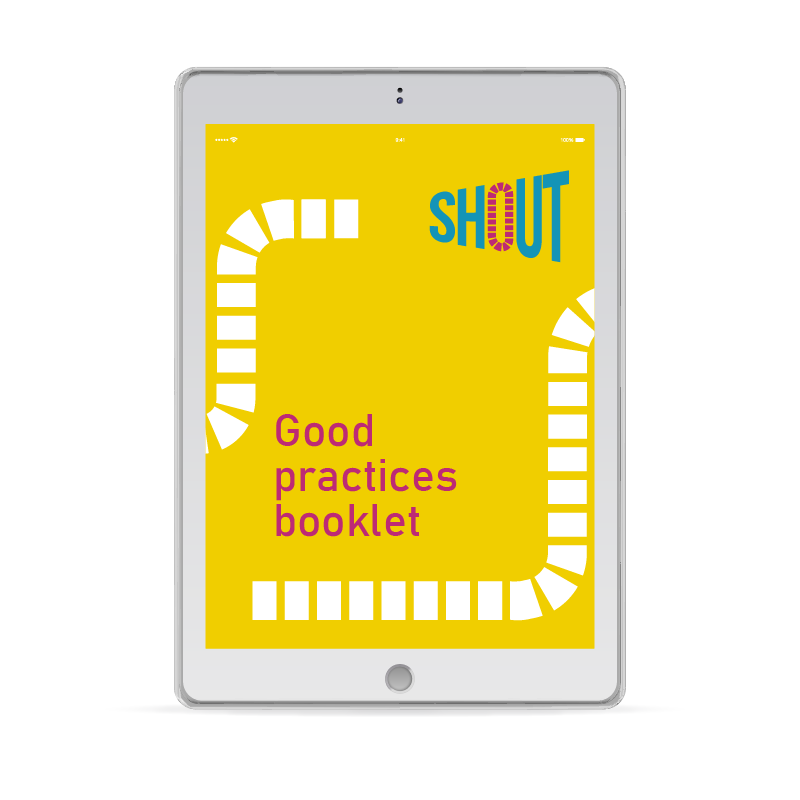 Good practices booklet
10 practices will be investigated and described, focusing on relevant examples of SSH students, researchers and graduates involvement in sustainable innovations/transformation in industry or 3rd sector settings. For each good practice, at least one interview will have to be performed to collect qualitative data and present testimonials. The selected innovative solutions should demonstrate their economic profit or its potential to demolish the myth of unprofitability of socially or environmentally sensitive solutions.
DOWNLOAD
Educational programmes
The training programme for professionals and researchers aims to promote reskilling and upskilling processes as continuous education offers addressing SSH professionals in industry and 3rd sector as well as research and tech-transfer/innovation professionals. The programme will consist on practical oriented and hands-on contents and activities and includes lessons per topic in the format of e-learning and webinars and the focus will be in the development of skills related to collaborative and multidisciplinary approaches; networking; project writing/management, innovation valorisation, commercialisation, IPR issues, etc.
All partners will be involved in the development process under coordination of INOVA+, accordingly with their expertise areas, especially the SMEs and NGOs.
The educational programmes for professionals will include eLearning materials and webinars and will be offered in the format of short courses (minimum of 3 courses), with a duration of 30 hours each (including 6h face-to-face), corresponding to 1ECTS (The provisional structure for each course includes: 3 modules/units of 10h each). All the materials produced will be available in the project HUB (see for further details the WP4) for participants to register and practice, and will be made available in the national languages (webinars in EN only) of the academic partners (available as open educational resources, but only after registration). Short versions will be available in the website only for promotion purposes.
Soon available
Traineeship Programme
The programme aims to match SSH students, SSH teachers and industry/3rd sector representatives to develop research and innovative projects on identified challenges/needs by the hosting organizations (industry/3rd sector representatives).
The research mission-based traineeship programme model will include problem-based approach to the research mission-based traineeships in the field of sustainable innovations and could be easily replicated because of its clear methodology and references points, which are traineeships foundational literacies, top needed competencies and personal skills accompanied by SDGs.
SSH students will be hosted in participating organisations, their networks and other mapped SMEs and NGOs, where they will be working on research projects around identified challenges by hosting organisations.
DOWNLOAD
Activities & Tools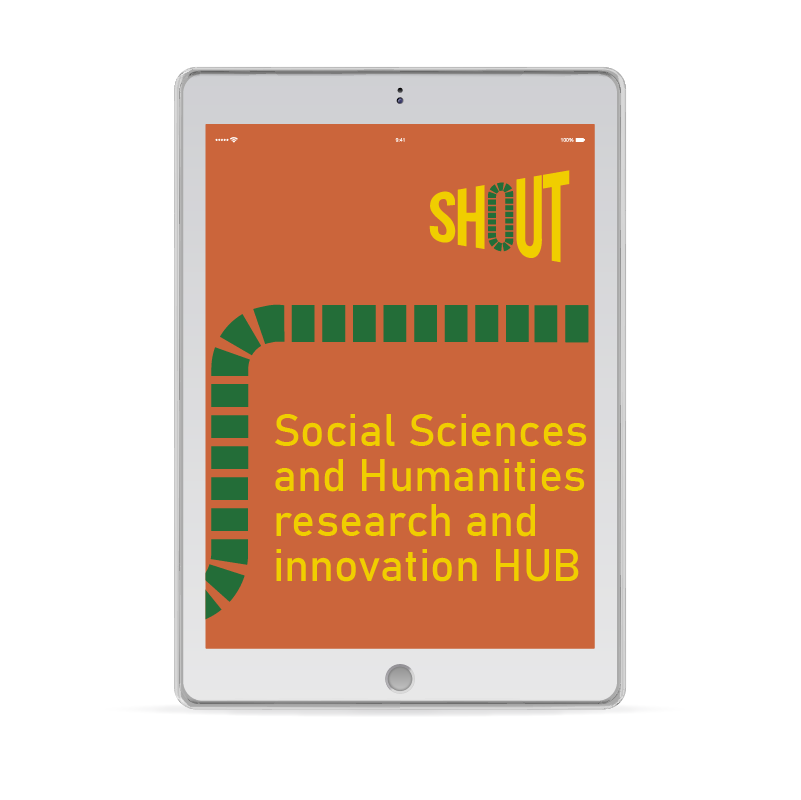 Social Sciences and Humanities research and innovation HUB
A SSH research and innovation HUB will be created and will be integrated with the other outputs (namely the educational programmes and the research mission-based traineeship programme), offering a complete package to SSH teachers, students and researchers and to industry and 3rd sector representatives. The main features of the HUB will thus be integrated to offer a full and meaningful experience to the end-users.
The key features of the HUB include (others such as a registration area, news area, etc, will also be included):
• Learning area: this area will allow all users to access to learning materials of their interest and to foster SSH research and innovation projects.
• Traineeship area: this area will complement the real face-to-face traineeships and enable preparatory activities (such as the concrete definition of the research project and the performance of some desk research), support to the traineeship period, and allow the continuation of the research and innovation projects after the traineeship.
• Project-oriented area: similar to the traineeship area, this area will be devoted to development of research services, where SSH graduates, researchers and teachers can offer their services and competences and industry and 3rd sector players can share their needs/challenges. Basically, a match-making platform between the demand and supply side for innovation and research projects performed by SSH graduates, researchers and teachers. The consortium anticipates that this area will be more explored during the 3rd year of the project only.
Available at shout-hub.eu/
1st Newsletter
Get detailed information about the project progress, results achieved and next steps by downloading the 1st edition of the project newsletter
DOWNLOAD
2nd Newsletter
Get detailed information about the project progress, results achieved and next steps by downloading the 2nd edition of the project newsletter
DOWNLOAD
3rd Newsletter
Get detailed information about the project progress, results achieved and next steps by downloading the 3rd edition of the project newsletter
DOWNLOAD
4th Newsletter
Get detailed information about the project progress, results achieved and next steps by downloading the 4th edition of the project newsletter
DOWNLOAD